In Touch Daily Devotional
by Dr. Charles Stanley
---
November 21, 2007 – Joyously Giving Thanks –
Colossians 1:11b-14
In today's passage, the apostle Paul writes that we should "joyously giv[e] thanks to the Father, who has qualified us to share in the inheritance of the saints in Light" (v.11-12). My question for you is, When was the last time you joyously gave thanks to God?
How often do we get excited over a movie, television program, or sporting event, and yet remain silent about the many blessings God sends our way? As His children, we ought to make praising our heavenly Father a daily priority of our lives.
Remember, God chose to display grace to us. He sent His Son to die as a substitutionary sacrifice—Jesus took upon Himself the penalty that we owed for our sin. He gave us a purpose for living and delivered us from ruined, meaningless lives. And He offered us hope, not only for our earthly lives, but also for eternity. Doesn't He deserve our thanks—every day?
What about you? Do you live in gratitude for God's precious blessings, remembering to thank Him for more than just His material provisions? After all, the Lord didn't place us on earth simply to accumulate possessions and wealth. He provided us with the gift of life so we could glorify Him and reflect the Savior, Jesus Christ, to the world.
Take some time this Thanksgiving to express appreciation to the Father for His many blessings. Most of all, praise Him for the gift of His Son, and let others know why you're so grateful. Then, for the remainder of the year, think of ways to demonstrate your thankfulness to Him.
FEATURED RESOURCE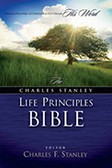 The Life Principles Bible
This Bible combines the wisdom of Scripture with the principles that guide Dr. Stanley's life and empower his ministry. Order your copy.
To see more resources from In Touch Ministries, please visit us at www.intouch.org or go directly to our bookstore at In Touch Ministries.