In Touch Daily Devotional 
by Dr. Charles Stanley
---
November 22, 2006
Where Our Needs Are Met
          In the most amazing and terrifying moments of Jesus' ministry, He surrounded Himself with His closest friends, Peter, James, and John.  While He lived on earth, He did not have favorites, but He did have intimates.          
          Believers today can have an intimacy with the Lord. In fact, we are called into a loving relationship with Him (Ephesians 1:4). Too often, people see God as a resource for troubled times but not as a friend for every day.  And yet, we are created to "cling" to God in the same way that David described in Psalm 63:8.
          Human beings are hard-wired to crave closeness, and most people have "circles" of intimacy. The first circle, which is nearest to the heart, is reserved for God; the second holds a spouse, children, and closest friends; the third is for people who are respected and cared for; and so on. Though some will try to cram another person into that first circle, no one fits except for God. Only He can bring genuine contentment and joy into our lives.
            The Lord takes great pleasure in meeting the needs of His intimate followers. He takes the initiative to call us into a relationship, to teach us His ways, and to accomplish His work through us. The last thing He wants is for us to feel anxious about our unmet needs. Trusting in His provision brings a sense of contentment and deepens our relationship with Him. Is God your intimate friend?
 
FEATURED RESOURCE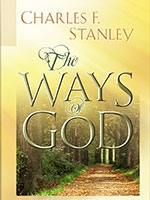 The Ways of God
from Dr. Charles Stanley
God's ways are always perfect, and following them leads to fulfillment and success. One of life's undeniable truths is that your choices will ultimately determine your future. While you can decide for yourself what career field to enter or who to marry, nothing compares with seeking God first and relying on the wonderful principles of His Word. In this series, Dr. Stanley teaches that as you serve God and seek His ways, you'll be blessed with peace, wisdom, and guidance for the journey ahead. Order here  now!
To see more resources from In Touch Ministries, please visit us at www.intouch.org  or go directly to our bookstore at In Touch Ministries.