In Touch Daily Devotional 
by Dr. Charles Stanley
---
November 23, 2006
A Glimpse of Heavenly Praise
Revelation 4
          Why do believers spend so little time praising God? It's because we have an inadequate understanding of Him. We use words like majestic, righteous, and holy, but do we consider their implication? God is above all earthly things and deserves more than the occasional "Hallelujah."
          When the disciple John was exiled to Patmos, he received a glimpse of heavenly praise.  Within the limits of language and his own experience, he did his best to describe the Holy Spirit's revelations. In that divine vision, John saw a throne, on which was seated the radiance of God's spirit shining like precious gems.  This is a description of the Lord's purity and His holiness in poetic form.
          Elders were seated around the throne, representing the redeemed throughout history. There were also four creatures, all bowing to the Father and constantly praising Him. These creatures, which were created by God to worship Him, probably represent His attributes: majesty (lion), patience and toil (ox), intelligence and reason (man), and sovereignty and supremacy (eagle). The elders have cast their crowns, their heavenly rewards, at God's feet. All of heaven worships the Lord for who He is. 
          The only way to adequately worship Him is to praise God for who He is. This kind of praise focuses on Him and recognizes that He transcends all earthly things. Spend time studying and meditating on the Scriptures so that you will hold accurate perceptions of the Lord. Then you will be able to worship in a way that brings Him honor.
 
FEATURED RESOURCE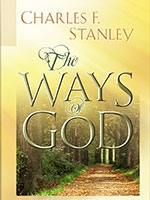 The Ways of God
from Dr. Charles Stanley
God's ways are always perfect, and following them leads to fulfillment and success. One of life's undeniable truths is that your choices will ultimately determine your future. While you can decide for yourself what career field to enter or who to marry, nothing compares with seeking God first and relying on the wonderful principles of His Word. In this series, Dr. Stanley teaches that as you serve God and seek His ways, you'll be blessed with peace, wisdom, and guidance for the journey ahead. Order here  now!
To see more resources from In Touch Ministries, please visit us at www.intouch.org  or go directly to our bookstore at In Touch Ministries.