November 23 
One of the earliest truths a child learns in Sunday school is that God is good. The simplicity of this statement masks the depth of such a remarkable attribute of the Lord. He is absolutely perfect and holy, which means that He alone is the standard of all righteousness. And since the expression of the Father's goodness is revealed in His actions, all that He does is good and right, because He cannot violate His own nature.
God is also unchanging, and therefore, His dealings with us are determined by His character, not by our behavior. Even when we are living in rebellion, He is still good to us. As a loving heavenly Father, He responds with discipline which is designed to restore the broken relationship rather than crush the wayward child.
The Lord's goodness is expressed in a multitude of ways. He is our Creator, and we are His people. Every breath we breathe is given to us by Him. As our loving Shepherd who watches over us, He provides for all our needs. But the greatest expression of God's goodness is the cross of Christ. What appeared from a human perspective to be the ultimate in cruelty and unfairness was the only way to rescue mankind from eternal separation from the Lord.
Believing in God's goodness is one of the pillars of our faith. This truth fills us with joy in happy times and grounds us with confidence when life is hard, unfair, or painful. When we don't understand what the Lord is doing, we can trust His heart and know that He is good.
For more biblical teaching and resources from Dr. Charles Stanley, please visit www.intouch.org.
Click here to watch Dr. Charles Stanley & In Touch Ministries Video Online
and
click here to listen to Dr. Stanley at OnePlace.com.
FEATURED RESOURCE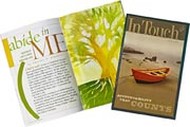 In Touch Magazine
Stories that Inspire, Teaching that Renews
If you like Dr. Charles Stanley's radio program, TV broadcast and books, then you'll love his free, award-winning monthly magazine. It's full of informative resources that will touch your heart and invigorate your faith. Every month, In Touch magazine brings readers daily devotionals from Dr. Stanley, in-depth Bible studies, inspiring articles and insightful teaching to help strengthen your family and your relationship with God. Click below to start your free subscription to In Touch magazine. 

Used with permission from In Touch Ministries, Inc. © 2009 All Rights Reserved.