In Touch Daily Devotional 
by Dr. Charles Stanley
---
November 24, 2006
Praise for the Lamb
Revelation 5
          From John's description in Revelation 4, we can see that God is clearly set apart from humanity.  He is greater than any created being or thing. But the same transcendent God who is praised by heaven hears your prayers. He is not out of reach.
          In Revelation 5, heaven turns its attention to the Lamb standing near God's throne.  He alone is able to take from His Father's hand the book containing the divine plan for all history; none but the Lamb can break its seals. This is Jesus Christ, who willingly followed that plan to become a sacrifice for our sins, exchanging our imperfection for His righteousness. Clothed in the Savior's righteousness, we can enter God's holy presence.
          If the angels and the four creatures praise Jesus and the Father with such exuberance, then we, who are direct recipients of divine mercy and grace, should do the same. Believers in heaven hold nothing back in their unceasing worship.  They are unashamed in their adoration.
          Worshipping with enthusiasm and a little volume may feel unnatural to those raised in a culture that shuns fanaticism, but God deserves to hear our voices bringing honor and glory to His name. Every word delights Him, and nothing is better for a believer than to know that the Lord is pleased. 
          God has done so much for you. He created, loved, saved, and sealed you for eternity. He asks for very little in return, but what He does desire is personal and unashamed praise. Does He receive that kind of worship from you?
 
FEATURED RESOURCE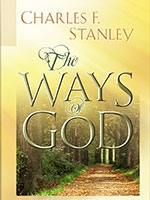 The Ways of God
from Dr. Charles Stanley
God's ways are always perfect, and following them leads to fulfillment and success. One of life's undeniable truths is that your choices will ultimately determine your future. While you can decide for yourself what career field to enter or who to marry, nothing compares with seeking God first and relying on the wonderful principles of His Word. In this series, Dr. Stanley teaches that as you serve God and seek His ways, you'll be blessed with peace, wisdom, and guidance for the journey ahead. Order here  now!
To see more resources from In Touch Ministries, please visit us at www.intouch.org  or go directly to our bookstore at In Touch Ministries.