November 25 
A Sacrifice of Thanksgiving 
Psalms 50
At first glance, the words sacrifice and thanksgiving have little connection, yet Scripture combines them in one phrase. Sacrifice brings to mind images of painful relinquishment or costly service, whereas thanksgiving conveys a joyous response prompted by overflowing abundance and blessings.
Generally, thanksgiving can be thought of as a verbal expression of gratitude for something good. In public worship services, we thank the Lord for His blessings with prayers and songs of praise, but these hardly seem like a sacrifice.
To gain understanding of this concept, let's consider some costly ways of giving thanks to God. Words can be cheap, but a godly life given wholly to the Lord is extremely valuable to Him and sacrificial for us. This is not about perfection but rather a heart that is bent toward obeying the Lord and a life surrendered to His will and purpose. Those living this kind of self-less, Christ-centered life can offer genuine thanks which delights God's heart.
Giving is another expression of gratitude that is costly. Since the Lord is the source of all provision and wealth, our grateful response should be to give Him a portion of all He has given us. Generosity is a good barometer of the authenticity of gratitude.
Offering thanks to God begins with words, but like children who grow in appreciation as they mature, so we should be growing in expressions of gratitude to the Lord. Give Him your whole life as a sacrifice of thanksgiving—you'll experience amazing benefits because you can never outgive God.
For more biblical teaching and resources from Dr. Charles Stanley, please visit www.intouch.org.
Click here to watch Dr. Charles Stanley & In Touch Ministries Video Online
and
click here to listen to Dr. Stanley at OnePlace.com.
FEATURED RESOURCE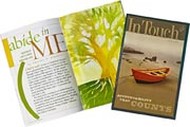 In Touch Magazine
Stories that Inspire, Teaching that Renews
If you like Dr. Charles Stanley's radio program, TV broadcast and books, then you'll love his free, award-winning monthly magazine. It's full of informative resources that will touch your heart and invigorate your faith. Every month, In Touch magazine brings readers daily devotionals from Dr. Stanley, in-depth Bible studies, inspiring articles and insightful teaching to help strengthen your family and your relationship with God. Click below to start your free subscription to In Touch magazine. 

Used with permission from In Touch Ministries, Inc. © 2009 All Rights Reserved.