In Touch Daily Devotional 
by Dr. Charles Stanley
---
November 26, 2006
Praising the Lamb of God
          We must meet three requirements to worship God properly, and there are four ways to express our praise properly.
          The first requirement is we must know God. The only way we can get to know God is through His revelation of Himself, which is His Word, the Bible. As we absorb His truths, we learn from and of the Lord. Then our worship can be motivated and directed correctly.
          Next, we must be submissive to Him. There is no true praise without obedience. Finally, we must have a pure heart. Since we are human, we are weak and frail. We will make mistakes. But God wants people who understand their weaknesses and are willing to submit to His will and acknowledge they are nothing apart from Him.
          The four ways we can properly express our praise is through:
          Speaking: We can praise and bless the Lord by telling others about Him or by reading Scripture such as today's verse.
          Singing: Some of the most powerful passages of praise are put to music, and we indeed will sing praises to God for eternity in heaven.
          Service: It is a contradiction for a believer to say he knows or loves God without offering Him service in some fashion. True faith bears fruit.
          Sharing: Another contradiction surfaces when a believer refuses to talk about Jesus with others or to tithe–to give back to God.
 
FEATURED RESOURCE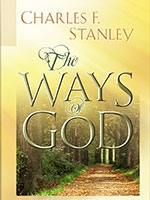 The Ways of God
from Dr. Charles Stanley
God's ways are always perfect, and following them leads to fulfillment and success. One of life's undeniable truths is that your choices will ultimately determine your future. While you can decide for yourself what career field to enter or who to marry, nothing compares with seeking God first and relying on the wonderful principles of His Word. In this series, Dr. Stanley teaches that as you serve God and seek His ways, you'll be blessed with peace, wisdom, and guidance for the journey ahead. Order here  now!
To see more resources from In Touch Ministries, please visit us at www.intouch.org  or go directly to our bookstore at In Touch Ministries.