November 27 
Our Godless Age 
2 Timothy 3
Scripture tells us that the years leading up to Christ's return will be difficult. Because of man's on-going rebellion against the Lord, ungodliness will continue to increase. In our own culture, opposition to Jesus is growing, and various sins that were once condemned are gaining acceptance. Many in our world have bought into Satan's lie that we can live without the Lord and still find happiness, prosperity, and peace. The Devil tempted Eve to believe she could find satisfaction outside of God's will, and he does the same with us today.
In 2 Timothy 3, we read about traits that will be common prior to Christ's return:
• "Lovers of self." Self-centeredness (placing a priority on what will profit us most) and selfishness (wanting to keep what we have) will be rampant.
• "Lovers of money." The acquisition of wealth to fuel pleasures, provide security, or gain possessions will be a strong motivator. Greed leads many to lie, cheat, and steal.
• "Boastful." Pride caused Satan to be cast from heaven, and it prevents people from submitting to Jesus' authority. Arrogance, which damages relationships and leads to financial ruin, will permeate society.
Other characteristics of the age will be abusive behaviors, unforgiving attitudes, and a lack of self-control.
It's easy to see similarities between modern society and Scripture's description of the years before Christ's second coming. While discouraging, these prophetic signs are precursors of the day Jesus returns to set things right. Our hope is to rest in His promises, not in the circumstances around us.
For more biblical teaching and resources from Dr. Charles Stanley, please visit www.intouch.org.
Click here to watch Dr. Charles Stanley & In Touch Ministries Video Online
and
click here to listen to Dr. Stanley at OnePlace.com.
FEATURED RESOURCE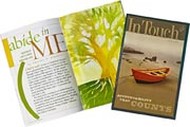 In Touch Magazine
Stories that Inspire, Teaching that Renews
If you like Dr. Charles Stanley's radio program, TV broadcast and books, then you'll love his free, award-winning monthly magazine. It's full of informative resources that will touch your heart and invigorate your faith. Every month, In Touch magazine brings readers daily devotionals from Dr. Stanley, in-depth Bible studies, inspiring articles and insightful teaching to help strengthen your family and your relationship with God. Click below to start your free subscription to In Touch magazine. 

Used with permission from In Touch Ministries, Inc. © 2009 All Rights Reserved.