In Touch - Nov. 28-29, 2009
November 28-29 
The Spirit of the Antichrist 
1 John 4
In the church, the word antichrist usually calls to mind the prophesied leader in power during the earth's last days. But in the Bible, it more often refers to an anti-Christ spirit—in other words, demonic forces opposed to truth. Examples include false teachers (1 Tim. 4:1) and the negative influence of the world (1 Cor. 2:12). John urged his readers to stand against enemies of the faith by using scriptural principles to evaluate their words and actions.
We are living in an "enlightened" age—or at least people think we are. Anyone with an opinion and a platform is welcome to share his or her version of truth. Subtly false messages come from unlikely places, such as the business world, the entertainment industry, or the media. We might be tempted to think that these venues are separate from our faith. But just as our beliefs are to impact every aspect of our being, so a bit of poison injected into our professional life or leisure pursuits can contaminate other areas.
Believers, therefore, must be aware of the type of information and attitudes that enter the mind. We need a discerning spirit to look past speakers' charisma and eloquence and assess their message. But we will recognize an anti-Christ attitude only if we have a heart full of Scripture against which to compare.
Your local bank teller knows when a counterfeit bill passes through her hands because she has memorized the feel of a real dollar. In the same way, believers with sound biblical knowledge will recognize and discard an anti-Christ message or attitude when it reaches their ears.
For more biblical teaching and resources from Dr. Charles Stanley, please visit www.intouch.org.
Click here to watch Dr. Charles Stanley & In Touch Ministries Video Online
and
click here to listen to Dr. Stanley at OnePlace.com.
FEATURED RESOURCE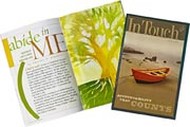 In Touch Magazine
Stories that Inspire, Teaching that Renews
If you like Dr. Charles Stanley's radio program, TV broadcast and books, then you'll love his free, award-winning monthly magazine. It's full of informative resources that will touch your heart and invigorate your faith. Every month, In Touch magazine brings readers daily devotionals from Dr. Stanley, in-depth Bible studies, inspiring articles and insightful teaching to help strengthen your family and your relationship with God. Click below to start your free subscription to In Touch magazine. 

Used with permission from In Touch Ministries, Inc. © 2009 All Rights Reserved.