In Touch Daily Devotional 
by Dr. Charles Stanley
---
November 3, 2006
How Prayer Builds Up the Saints
Paul consistently kept a divine perspective in his prayers. First of all, he kept the character of God in the forefront of his thinking. He also recognized those who were thriving spiritually, thanked God for them, and asked the Lord to build up the saints.
In the first chapter of Ephesians, Paul made four petitions, which still apply to believers today. First, he asked God to give the Spirit of wisdom and revelation so they—and we—may know him better. Paul wanted the Holy Spirit to—one—reveal to us the deeper truths of our relationship with Christ—two—to illuminate our minds with understanding, and—three—to give us the wisdom to apply what we learn.
The second request the apostle Paul made was for the saints to be filled with hope. He asked God to give us an understanding of what we have in Christ today… and for eternity. When our minds took hold of these eternal truths, he knew we would overflow with hope.
Thirdly, Paul asked that we would recognize who we have become. He prayed for us to understand that we are a gift from the Father to the Son. Each believer is a part of Jesus' inheritance and valuable to Him.
Finally, the apostle prayed the saints would experience the Spirit's supernatural power working in our lives. Paul's desire is that we would move from mere head knowledge to practical understanding. So, he asked the Lord to make that happen.
Paul recognized that when we deepen our comprehension of God, accept who we are in Christ, and encounter the indwelling Spirit's awesome power, we will be able to face whatever comes our way. Let's commit to offering these types of prayers to God on behalf of others.
 
FEATURED RESOURCE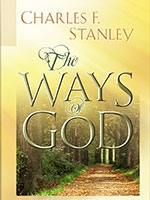 The Ways of God
from Dr. Charles Stanley
God's ways are always perfect, and following them leads to fulfillment and success. One of life's undeniable truths is that your choices will ultimately determine your future. While you can decide for yourself what career field to enter or who to marry, nothing compares with seeking God first and relying on the wonderful principles of His Word. In this series, Dr. Stanley teaches that as you serve God and seek His ways, you'll be blessed with peace, wisdom, and guidance for the journey ahead. Order here  now!
To see more resources from In Touch Ministries, please visit us at www.intouch.org  or go directly to our bookstore at In Touch Ministries.