In Touch Daily Devotional 
by Dr. Charles Stanley
---
November 30, 2006
Christ's Glory in Tough Times
          Point a telescope at any star in the night sky. It's amazing how the instrument will magnify the star for you, even though that distant ball of gas is actually millions of times larger than the image your eye sees. Believers are like a telescope for Christ. He is far more radiant than we could ever convey, but the purpose of our life is to magnify Him.
          While in Roman custody, Paul said, "Christ will even now, as always, be exalted in my body, whether by life or by death" (Philippians ). In other words, Paul told the Philippians that as long as he served God, even though he could no longer preach or disciple, Christ was being glorified. In this way, Paul fulfilled the God's purpose.       
          He accepted his imprisonment with grace, and, even in chains, he searched for ways the Lord could use him. He rejoiced that his situation resulted in new ministry to the elite praetorian guard and, even more, that he had the privilege to suffer for Christ's name. (Philippians 3:10) When a believer passes through trials peacefully and praises the Lord, unbelievers notice.  The Christian is a telescope, bringing Jesus into focus in a way that the rest of the world can see and understand. 
          Whatever is happening in your life, good or bad, long-term or short, you have the opportunity to exalt Christ. Let those in your sphere of influence see how He victoriously guides you through tough times. The Lord will work through you if you submit, and, in the process, He will give you the strength and courage to live above your circumstances.
FEATURED RESOURCE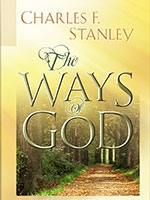 The Ways of God
from Dr. Charles Stanley
God's ways are always perfect, and following them leads to fulfillment and success. One of life's undeniable truths is that your choices will ultimately determine your future. While you can decide for yourself what career field to enter or who to marry, nothing compares with seeking God first and relying on the wonderful principles of His Word. In this series, Dr. Stanley teaches that as you serve God and seek His ways, you'll be blessed with peace, wisdom, and guidance for the journey ahead. Order here  now!
To see more resources from In Touch Ministries, please visit us at www.intouch.org  or go directly to our bookstore at In Touch Ministries.