In Touch Daily Devotional 
by Dr. Charles Stanley
---
November 4, 2006
Is it a Need or a Desire?
In the fourth chapter of Philippians, Paul declares that God will "supply all your needs according to His riches in glory in Christ Jesus" (v. 19). When we read that passage and apply it to our daily lives, we must be careful to interpret it correctly. For that to happen, we must understand the difference between "needs" and "desires."
A need is something that is essential for us to develop into who God wants us to be or to accomplish the things He calls us to do. On the other hand, a desire is something we think will bring enjoyment to our lives. The key word here is "enjoyment." It describes a temporary pleasure. We tend to want things that will bring us happiness for a season and then fade away. It's important to note there's nothing wrong with a desire, as long as it is within the will of God and is an outflow of a Spirit-filled life.
Our wonderful, adoring heavenly Father loves to shower His grace upon us (Matthew 7:11). However— and this is critical—we must remember that God never promises to supply all of our desires.  He surely provides many of them, but only at His discretion and for His own glory. So, your inability to acquire a large-screen television, for example, is certainly no indicator that God is unfaithful!
What do you need in order to become the person God has called you to be? What do you desire that will help you gain more enjoyment in life? Make a list of these things, and make both categories a regular part of your prayer life.
 
FEATURED RESOURCE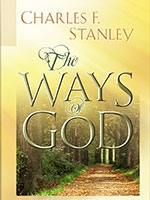 The Ways of God
from Dr. Charles Stanley
God's ways are always perfect, and following them leads to fulfillment and success. One of life's undeniable truths is that your choices will ultimately determine your future. While you can decide for yourself what career field to enter or who to marry, nothing compares with seeking God first and relying on the wonderful principles of His Word. In this series, Dr. Stanley teaches that as you serve God and seek His ways, you'll be blessed with peace, wisdom, and guidance for the journey ahead. Order here  now!
To see more resources from In Touch Ministries, please visit us at www.intouch.org  or go directly to our bookstore at In Touch Ministries.