November 4 
Problem Solved! 
1 Peter 1
Mankind was created to have a loving relationship with God. However, this relationship was broken when Adam and Eve listened to the Devil and disobeyed the Lord. Sin entered their very natures and has been passed down to all their descendants.
Now we all have a big problem: alienation from God. But our all-knowing Lord had a plan of salvation in place even before He created anything (1 Peter 1:18-20). When the time was right, the Son of God paid our penalty for sin with His substitutionary death, and in so doing, He opened the door for forgiveness and reconciliation.
In His grace, God saves us on the basis of faith in His Son, and calls us to a "ministry of reconciliation" (2 Cor. 5:18-21). Together, believers make up the body of Christ—or "the church"— through whom He achieves His work on earth.
The Lord gives us new natures empowered by the Holy Spirit, who comes to live within each Christian. He transforms our characters into the image of Christ and enables us to live godly, obedient lives.
One day we will all stand before the Judge, and He will pronounce our eternal destiny—either heaven or the lake of fire. Those who have been reconciled with God through Christ will be welcomed into their heavenly inheritance.
We need these truths firmly planted in our minds. Then we will grasp not only our desperate situation but also the goodness and love of God, as revealed in His amazing rescue plan. He has proven His care for us in our most urgent need. Will He not, then, provide for every other need in our lives?
For more biblical teaching and resources from Dr. Charles Stanley, please visit www.intouch.org.
Click here to watch Dr. Charles Stanley & In Touch Ministries Video Online
and
click here to listen to Dr. Stanley at OnePlace.com.
FEATURED RESOURCE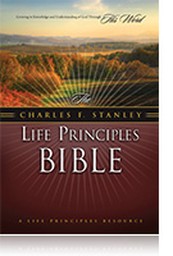 The NASB Life Principles Bible
You can now read the Scriptures in Dr. Stanley's favorite teaching translation -- the New American Standard -- while learning the 30 Life Principles that have guided him for more than 50 years. The new NASB Life Principles Bible will enhance your personal study time through explanation of key passages, plus helpful resources like "Answers to Life's Questions," concordance, maps, and much more. Available in leather and hardcover. 

Used with permission from In Touch Ministries, Inc. © 2009 All Rights Reserved.