In Touch Daily Devotional 
by Dr. Charles Stanley
---
November 5, 2006
Peace with God
          Author and Bible teacher Kay Arthur says, "Sin will take you further than you ever want to go." She is right. The enemy entices us to sin. When we do, we suddenly find we have drifted further from God than we would have thought possible.
          A lack of peace often indicates that there is something wrong within a person's life. It could be that he believes Satan's lie by thinking that God has abandoned him. Nothing could be further from the truth. God's love for us is eternal.
          Another reason we lose our sense of peace is because of sin. The way to reclaim the joy and peace that sin has stolen is to humble ourselves before the Lord in prayer and ask Him to forgive our transgressions.
          The psalmist wrote: "Be gracious to me, O God, according to Your lovingkindness; according to the greatness of Your compassion blot out my transgressions. . . . Restore to me the joy of Your salvation and sustain me with a willing spirit" (Psalm 51:1,12).
          King David wrote these words to the Lord after his adulterous affair with Bathsheba. Anguish over his sin motivated David to pray for forgiveness and for the restoration of the joy of his salvation.
          God heard David's prayer and restored him. The Lord will do the same for you. His peace and joy awaits those who turn to Him.
 
FEATURED RESOURCE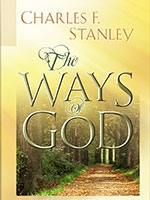 The Ways of God
from Dr. Charles Stanley
God's ways are always perfect, and following them leads to fulfillment and success. One of life's undeniable truths is that your choices will ultimately determine your future. While you can decide for yourself what career field to enter or who to marry, nothing compares with seeking God first and relying on the wonderful principles of His Word. In this series, Dr. Stanley teaches that as you serve God and seek His ways, you'll be blessed with peace, wisdom, and guidance for the journey ahead. Order here  now!
To see more resources from In Touch Ministries, please visit us at www.intouch.org  or go directly to our bookstore at In Touch Ministries.