In Touch Daily Devotional 
by Dr. Charles Stanley
---
October 10, 2006 Infinite God John 4:19-24
While talking with the Samaritan woman at the well, Jesus explained an important attribute of God's character: "God is spirit, and those who worship Him must worship in spirit and in truth." As pointed out in yesterday's devotional, our Heavenly Father is a person. But, He's not confined to a body the way humans are.
Because God is spirit, He's not bound by time or space. He's with every believer during every moment of life. When we sense His presence in group worship at church or during personal prayer time at home, it's because His spirit is interacting with our own.
God's freedom from limitation means we're never without Him. The heavenly Father is too awesome to be confined by physical boundaries. When the Israelites begged for a golden calf to worship (Exodus 32:1), they showed a lack of understanding for His unlimited nature.
Idolatry tries to confine an infinite Lord into a finite form to make Him fit human perceptions and desires. But if He can be restricted to some animal or person, God simply would not be worthy of worship. The Father is infinite in His being and in every one of His attributes. His love has no restrictions. His mercy is without end. We cannot sin ourselves beyond the reach of His grace. 
Sometimes, we may wish we could hide our actions or our face from God. But, we're always in His presence. Take comfort knowing that no matter where you go or what you do, your Father is always with you.
FEATURED RESOURCE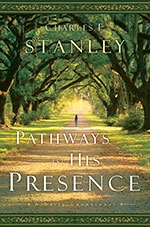 Pathways to His Presence
from Dr. Charles Stanley
Dr. Stanley's new daily devotional, Pathways to His Presence, focuses on 12 spiritual pathways each month — including forgiveness, prayer, victory, and peace — that will guide you confidently into the presence of God. As you journey along, you will join a long list of biblical heroes who chose to place their lives in the hands of God and obey His call. By doing so, they came to know the Lord more intimately and accomplish great and mighty things in His name. Spending time with the Father each day will not only provide guidance for your life, but will make you more like Him! Order here now!
FEATURED RESOURCE
How to Let God Solve Your Problems
from Dr. Charles Stanley
In How to Let God Solve Your Problems, you will discover not only how to handle adversity but how to live beyond your deepest hurts through faith and trust in the one Person who will never leave you. Order here now!
To see more resources from In Touch Ministries, please visit us at www.intouch.org  or go directly to our bookstore at In Touch Ministries.