October 13
Serving the Purpose of God 
2 Corinthians 5:9-10
Church members sometimes get the mistaken idea that service to God must be an "up front" kind of activity. To their way of thinking, the preacher and the choir soloist serve God, but the rest of us are just trying to get through the day—and maybe in the future we'll get a chance to do some great thing for the Lord.
The truth is that much of our daily life is spent serving God's purpose. In fact, our greatest impact might come out of a small act of faithfulness. When I was 17 years of age, my grandfather spent one week with me. He likely did not think there was much eternal significance to sitting on the back porch swing talking with his teenage grandson. But the spiritual principles he shared changed my life. I've used them in almost every sermon, which means that my grandfather has blessed millions of people.
God's followers shouldn't underestimate the scope of ministry. If we limit our service to special "church tasks," we'll miss everyday opportunities to make a difference.
The Scriptures are full of ordinary but necessary things for believers to do: care for the less fortunate (Ex. 22:22); train children (Prov. 22:6); use Christian liberty wisely (1 Cor. 8:7-13);  "admonish the unruly, encourage the fainthearted, help the weak" (1 Thess. 5:14); and so on.
Believers make up Jesus' body on earth. We are His hands to reach out, His feet to go where the need is, and His mouth to give comfort and share the gospel. What role are you meant to fulfill today? Prayerfully commit to serve the Lord in everything you do.
For more biblical teaching and resources from Dr. Charles Stanley, please visit www.intouch.org.
Click here to watch Dr. Charles Stanley & In Touch Ministries Video Online
and
click here to listen to Dr. Stanley at OnePlace.com.
FEATURED RESOURCE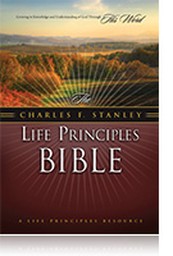 The NASB Life Principles Bible
You can now read the Scriptures in Dr. Stanley's favorite teaching translation -- the New American Standard -- while learning the 30 Life Principles that have guided him for more than 50 years. The new NASB Life Principles Bible will enhance your personal study time through explanation of key passages, plus helpful resources like "Answers to Life's Questions," concordance, maps, and much more. Available in leather and hardcover. 

Used with permission from In Touch Ministries, Inc. © 2009 All Rights Reserved.