In Touch Daily Devotional 
by Dr. Charles Stanley
---
October 16, 2006 Knowing God as Our Father 1 John 3:1-3
            When we hear the word "father", what images come to mind? Hardworking or couch potato? Enthusiastic or stern? Available or absent? Regardless of the strengths and weaknesses of our own dads, we have a heavenly Father who is perfect.
            Jesus' life provides us with a picture of God as our father. We see Him tenderly holding children, ministering to the sick, and showing compassion to the undeserving. His words tell us of a heavenly Father who loves people, who listens to His children's prayers, and who freely offers forgiveness.
            Jesus also revealed that there are two spiritual fathers in this world: Jehovah God and Satan. Only those who have been spiritually born into God's family may call Him "Father." This rebirth (John 3:3) takes place when a person accepts the Savior's substitutionary sacrifice for his or her own sins. Those who turn away from Jesus—who is the only way to God (John 14:6)—have the Devil as their spiritual father. (John 8:42-45) They have believed the Father of Lies and rejected the one true God as revealed in the person of Jesus. Satan came to steal, kill, and destroy (John ), but Jesus came that we might have new life and be reconciled to God. 
            The heavenly Father is personally interested and involved in His children's lives. He is aware of our needs and has promised to provide His best for us.  He delights to give His family good gifts and doesn't hold our mistakes against us. With Him, we find intimacy, security, and satisfaction. Child of God, how well do you know your Father?
 
FEATURED RESOURCE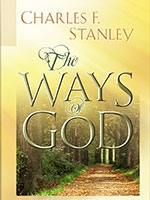 The Ways of God
from Dr. Charles Stanley
God's ways are always perfect, and following them leads to fulfillment and success. One of life's undeniable truths is that your choices will ultimately determine your future. While you can decide for yourself what career field to enter or who to marry, nothing compares with seeking God first and relying on the wonderful principles of His Word. In this series, Dr. Stanley teaches that as you serve God and seek His ways, you'll be blessed with peace, wisdom, and guidance for the journey ahead. Order here  now!
To see more resources from In Touch Ministries, please visit us at www.intouch.org  or go directly to our bookstore at In Touch Ministries.