In Touch Daily Devotional 
by Dr. Charles Stanley
---
October 17, 2006 Becoming Like Our Heavenly Father Ephesians 5:1-4
            God expresses His Fatherhood in several ways because He wants to help us become parents with the same qualities He has.
            1. God desires intimacy with us. In order for us to become His children, God sent His Son to die in our place — but for that relationship to be intimate, transparency is necessary. Can our children openly express their thoughts, activities, and mistakes to us?             2. God speaks through His Word, invites us to pray, and promises to reply. Good communication includes listening.  Do our children frequently have our undivided attention?
            3. God loves us unconditionally with the same love He gave Jesus. (John 17:23) Do we practice 1 Corinthians 13 love in our families?
            4. The heavenly Father meets the needs of His children. Seeing how He cares for the birds of the air will assure us that He is going to provide for us too.(Matthew 6:26) Children have spiritual needs as well as physical and emotional ones. Are we instructing our sons and daughters in the truths of the Bible?
            5. He also disciplines us for our good. When God holds us accountable for what we say and do, it is an expression of His perfect love. In what ways are we holding our children accountable for their actions and words?
            6. Our Father instructs us in the way to live. Through our example and teaching, children can learn how to please God by their lifestyle. What kind of model are they seeing in your daily life? 
            Through reliance on God, we can become godly parents. In which area would you like Him to help you?
 
FEATURED RESOURCE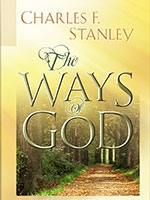 The Ways of God
from Dr. Charles Stanley
God's ways are always perfect, and following them leads to fulfillment and success. One of life's undeniable truths is that your choices will ultimately determine your future. While you can decide for yourself what career field to enter or who to marry, nothing compares with seeking God first and relying on the wonderful principles of His Word. In this series, Dr. Stanley teaches that as you serve God and seek His ways, you'll be blessed with peace, wisdom, and guidance for the journey ahead. Order here  now!
To see more resources from In Touch Ministries, please visit us at www.intouch.org  or go directly to our bookstore at In Touch Ministries.