In Touch Daily Devotional 
by Dr. Charles Stanley
---
October 19, 2006 The Holiness of God Revelation 4
            God is without sin. There is no evil in His thoughts, motives, or actions. Because of His holy character, He is against all iniquity.  He doesn't hate the sinner, but He despises the sin.
            The heavenly Father's holiness is revealed not only in His moral purity but also in His separateness from all evil and transgression. Because of His righteous character, He cannot tolerate or ignore sin.  His justice requires that wrongdoing be paid for, and the only acceptable payment is death. (Romans 6:23)
            What bridges the gap between holy God and sinful man? Only faith in Jesus Christ, our risen Savior.  The Son of God, having lived a sinless life, died to pay our sin-debt in full and to provide a way for each of us to have a relationship with righteous God.  The heavenly Father, having accepted Jesus' payment for sin, invites everyone to become His child.
            First, we must acknowledge our unworthiness and helplessness to pay for our own sins. Then we must confess our sins, asking Him to pardon us based on the fact that Christ fully paid our sin-debt after suffering God's wrath, condemnation, and judgment in our place. God justifies us the moment we receive Jesus as our personal Savior—the Judge of all humanity declares we are no longer guilty. He accepts the transfer of our guilt to His Son, who stood as our substitute. God credits not only Jesus' sacrificial death to us, but also His righteousness. 
            Pardoned of all our sin. Clothed in Jesus' righteousness.  Made a child of holy God. These are three reasons to praise and thank the Lord every day.
 
FEATURED RESOURCE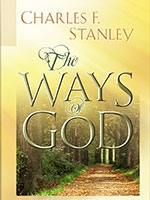 The Ways of God
from Dr. Charles Stanley
God's ways are always perfect, and following them leads to fulfillment and success. One of life's undeniable truths is that your choices will ultimately determine your future. While you can decide for yourself what career field to enter or who to marry, nothing compares with seeking God first and relying on the wonderful principles of His Word. In this series, Dr. Stanley teaches that as you serve God and seek His ways, you'll be blessed with peace, wisdom, and guidance for the journey ahead. Order here  now!
To see more resources from In Touch Ministries, please visit us at www.intouch.org  or go directly to our bookstore at In Touch Ministries.