In Touch Daily Devotional
by Dr. Charles Stanley
---
October 19, 2007 – Does God Love Me? – Psalms 145:7-9 
            Life can hit us with the most unexpected and undesirable circumstances. When that happens, shock and pain can make us wonder, Does God really care about me? 
            First of all, Scripture tells us, "God is love" (1 John 4:8), which means His very nature is characterized by compassion and concern. Love originated with the Lord, and He is our greatest example of how to express it. This truth, combined with the reality that God is holy, means He is perfect in His love—He'll never make a mistake in the way He loves us. 
            Second, we know that our heavenly Father loves us, because He calls us His children. "To those who believe in his name, he gave the right to become children of God," writes John in his gospel (1:12 niv). Sadly, some people don't have a mother or father who shows them love. But God is the perfect parent. It would be completely against His character to mistreat any of His children. 
            Finally, God gave the supreme demonstration of His love at the cross. We were all dead in our sins, but Christ went to the greatest length possible to give us life. The Son of God came to earth as an expression of His Father's awesome, fathomless, infinite love and did for us what no one else could do. 
            After considering these three facts about God's love, how could we not expect Him to take care of even the smallest details of our life? Look for ways He is expressing His love to you, and remember Jesus' own words on the subject: "Greater love has no one than this, that one lay down his life for his friends (John 15:13).
FEATURED RESOURCE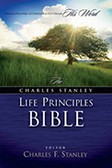 The Life Principles Bible
This Bible combines the wisdom of Scripture with the principles that guide Dr. Stanley's life and empower his ministry. Order your copy.
To see more resources from In Touch Ministries, please visit us at www.intouch.org or go directly to our bookstore at In Touch Ministries.