In Touch Daily Devotional 
by Dr. Charles Stanley
---
October 02, 2006 The Privilege of Knowing God Philippians 3:7-11
God wants people to know Him. If He preferred anonymity, He would not have orchestrated the writing of a multi-author book about Himself. But Bible reading is just a first step. Knowing about God is different than knowing God. Anyone can learn a few facts about Him, but only a dedicated believer takes the time and energy to be His friend.
First, we learn about the Lord from His Word. By reading the Bible, believers begin to accumulate facts about God's character, principles, and ways of operating. Unfortunately, churches are full of men and women who stop at this step. They know a lot of religion but cannot share faith.
The second step is to meditate on Scripture. That means thinking about God's words and allowing the Holy Spirit to interpret them.
Finally, we must apply what we learn. Suppose you read Psalm 46:1 which says,  "God is a very present help in times of trouble." Then, when trouble shows up, you rely on Him for help. When He answers — and He will answer, although not always as expected — you learn something: God helps you by responding to your trust and dependence with a custom-made solution to your problem.
Dr. Stanley frequently encourages believers to read the Bible. But by that, he does not mean for anyone to skim its pages and walk away with only facts. Scripture is a living document that will tell you how to practice faith in daily life. But you must do what it says. Only then can you see God as He truly is — not some ancient deity full of rules, but a vibrant Friend who wants to connect with you.
 
FEATURED RESOURCE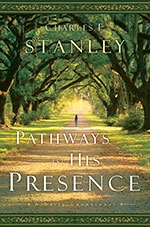 Pathways to His Presence
from Dr. Charles Stanley
Dr. Stanley's new daily devotional, Pathways to His Presence, focuses on 12 spiritual pathways each month — including forgiveness, prayer, victory, and peace — that will guide you confidently into the presence of God. As you journey along, you will join a long list of biblical heroes who chose to place their lives in the hands of God and obey His call. By doing so, they came to know the Lord more intimately and accomplish great and mighty things in His name. Spending time with the Father each day will not only provide guidance for your life, but will make you more like Him! Order here now!
FEATURED RESOURCE
How to Let God Solve Your Problems
from Dr. Charles Stanley
In How to Let God Solve Your Problems, you will discover not only how to handle adversity but how to live beyond your deepest hurts through faith and trust in the one Person who will never leave you. Order here now!
To see more resources from In Touch Ministries, please visit us at www.intouch.org  or go directly to our bookstore at In Touch Ministries.