October 2
Solving Problems Through Prayer 
2 Chronicles 20:4-15
When the king of Judah called for a nationwide fast to seek God's help, the people from every town responded and came together to pray. Jehoshaphat's actions and words teach us some important truths about solving life's problems through prayer.
Our Father is bigger than our problems. The king stated God was the all-powerful ruler of nations against whom no one could stand (v. 6). While many difficulties are beyond our ability to solve, nothing is impossible for Him (Matt. 19:26). If we pray while focusing on His greatness, our troubles will shrink into proper perspective.
God often wants to involve others in praying with us. Whole families from all over Judah answered the king's call and came together before God (2 Chron. 20:13). Prayer had a central role in the life of the early church as well (Acts 2:42).
Through prayer, the Lord will give us a solution to the problem. His answer could be just what we asked or something entirely unexpected; He might tell us to wait in our current situation instead of taking action, or He could direct us to become involved in something new. In any case, God's direction will be according to His perfect will. What's more, He may ask us to take a step of faith. God uses every opportunity to strengthen our trust and grow us in righteousness.
We don't know how long the people had to wait for an answer, but they didn't act until they heard from the Lord. He told the nation not to be afraid or discouraged, but to trust in Him. Through prayer, we, too, can enter into His presence and receive strength and direction for life's challenges.
For more biblical teaching and resources from Dr. Charles Stanley, please visit www.intouch.org
and
click here to listen to Dr. Stanley at OnePlace.com.
FEATURED RESOURCE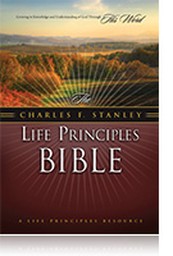 The NASB Life Principles Bible
You can now read the Scriptures in Dr. Stanley's favorite teaching translation -- the New American Standard -- while learning the 30 Life Principles that have guided him for more than 50 years. The new NASB Life Principles Bible will enhance your personal study time through explanation of key passages, plus helpful resources like "Answers to Life's Questions," concordance, maps, and much more. Available in leather and hardcover. 

Used with permission from In Touch Ministries, Inc. © 2009 All Rights Reserved.