In Touch Daily Devotional 
by Dr. Charles Stanley
---
October 22, 2006 The Heart Of The Cross Romans 5
            There is an old gospel song that contains these words: "Jesus paid it all, all to Him I owe, sin had left a crimson stain, He wash'd it white as snow." There is a message God wants us to hear whenever we think of the Cross of Christ, and that is Jesus paid it all.
            From the first time man sinned in the Garden of Eden, God has required a payment for sin. The Bible calls this payment atonement. Old Testament saints atoned for their sins by offering a sacrifice to God. But for the sacrifice to be acceptable, certain requirements had to be maintained. For example, man could not approach the altar of God without a priest to intervene for him. Even then the sacrifice had to be made according to the law given to Moses.
            The point of all of this was to maintain a sense of awareness that God is holy and that sin is something only He could remove. But there is another thread woven into the fabric of atonement: the eternal love of God.
            Even after man disobeyed God and sinned, the Lord continued to love him, so much so that God began a divine quest to restore the sweet fellowship man had once enjoyed with Him. Jesus is the only way to experience this restoration today. He is the Lamb of God–the perfect atonement for our every sin. We can enjoy the goodness of God today because Jesus has paid it all!
 
FEATURED RESOURCE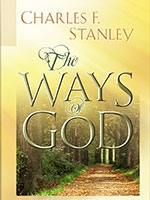 The Ways of God
from Dr. Charles Stanley
God's ways are always perfect, and following them leads to fulfillment and success. One of life's undeniable truths is that your choices will ultimately determine your future. While you can decide for yourself what career field to enter or who to marry, nothing compares with seeking God first and relying on the wonderful principles of His Word. In this series, Dr. Stanley teaches that as you serve God and seek His ways, you'll be blessed with peace, wisdom, and guidance for the journey ahead. Order here  now!
To see more resources from In Touch Ministries, please visit us at www.intouch.org  or go directly to our bookstore at In Touch Ministries.