October 23
The Process of Forgiving 
Matthew 6:9-15
Forgiving those who have seriously hurt us is one of our most challenging "assignments." And merely having a desire to obey God or saying the right words
does not necessarily accomplish the task. Old memories and pain can steal back into the mind, stirring up emotions of anger and injustice.
Though we have a responsibility to take the initiative soon after suffering harm, forgiveness for deep hurts is a process. Begin immediately to prevent a root of bitterness from developing. But remember: The deeper the hurt, the more time it will take to work through forgiveness. Never become discouraged—the Lord will walk with you each step of the way.
Confession to God is the beginning of the process. Come before Him, admitting any resentment and acknowledging it as sin. As you lay your anger and hurt before the Lord, let Him begin to heal your broken heart.
Sometimes the process can also involve going to the offender and confessing your sinful attitude toward him. This is a time not to build your case or itemize his wrongs but simply to admit your own. Although the offense against you may seem greater than your unforgiving attitude, avoid the temptation to "rank" sins. And leave judgment to God.
Forgiveness brings freedom from the agitation that accompanies resentment. In working through the process, you'll begin to see the one who hurt you through eyes of compassion. Eventually, you will be able to thank God for the opportunity to learn forgiveness and live in His lavish grace.
For more biblical teaching and resources from Dr. Charles Stanley, please visit www.intouch.org.
Click here to watch Dr. Charles Stanley & In Touch Ministries Video Online
and
click here to listen to Dr. Stanley at OnePlace.com.
FEATURED RESOURCE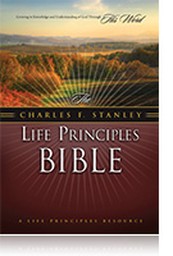 The NASB Life Principles Bible
You can now read the Scriptures in Dr. Stanley's favorite teaching translation -- the New American Standard -- while learning the 30 Life Principles that have guided him for more than 50 years. The new NASB Life Principles Bible will enhance your personal study time through explanation of key passages, plus helpful resources like "Answers to Life's Questions," concordance, maps, and much more. Available in leather and hardcover. 

Used with permission from In Touch Ministries, Inc. © 2009 All Rights Reserved.