In Touch Daily Devotional 
by Dr. Charles Stanley
---
October 27, 2006 What Took Place at the Cross Luke 23
            It was the custom of Jesus' day to place on the cross a written charge—a certificate describing the guilty person's crime. Our certificate, which lists all the sins that we have or ever will commit, was nailed to the cross and borne by our Savior. (Colossians 2:13-14) Jesus thereby destroyed that record, rendering it null and void. Our sins no longer count against us, nor do we bear the guilt from them. (Romans 8:1) Sin has been judged.
            At the same time, Jesus, "having disarmed the powers and authorities . . . made a public spectacle of them, triumphing over them by the cross" (Colossians NIV). Our foe, Satan, and his forces were defeated that day and stripped of power over believers' lives. The Devil's defeat was confirmed at the resurrection. God raised Jesus from the dead, proving He had accepted His Son's substitutionary death in our place. With our sin-debt now marked "paid in full," we who trust in Jesus are forever free from Satan's power. Sin's penalty has been paid, sin's power has been broken, and the Son of God has taken away our shame. Our foe cannot destroy us; the only thing Satan can do is tempt us.
            In addition, the Savior purchased mankind's redemption that day. We were in bondage to sin, but the precious blood of Jesus bought our release so that we might become children of God. (Romans 6:6; John 1:12)
            What occurred at the cross? Sin was judged. Satan was defeated. Our salvation was purchased. Store these lifegiving truths deep in your heart, and walk in the freedom and victory God bought for you.
 
FEATURED RESOURCE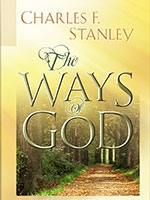 The Ways of God
from Dr. Charles Stanley
God's ways are always perfect, and following them leads to fulfillment and success. One of life's undeniable truths is that your choices will ultimately determine your future. While you can decide for yourself what career field to enter or who to marry, nothing compares with seeking God first and relying on the wonderful principles of His Word. In this series, Dr. Stanley teaches that as you serve God and seek His ways, you'll be blessed with peace, wisdom, and guidance for the journey ahead. Order here  now!
To see more resources from In Touch Ministries, please visit us at www.intouch.org  or go directly to our bookstore at In Touch Ministries.