In Touch Daily Devotional 
by Dr. Charles Stanley
---
October 28, 2006 Wisdom for Good Health 1 Corinthians 9:24-27
            Because God cares so much for your body, let's review some simple ways to look after yourself physically.
            First, pay close attention to what you eat. Your body will use whatever food you eat— whether good or bad—as fuel. You alone must decide what kind of fuel you wish to consume. When you fill your body with the wrong things, you are limiting its efficiency, energy, and overall potential.
            Second, exercise is vital to a healthy body. You may say, "Well, I just can't do that." Yes, you can; it is a matter of discipline. You may not enjoy exercise, but your body needs it. If all you can do is walk, then walk!
            Third, wisdom about health requires examining your attitude. How's your outlook regarding yourself, your life, and other people? A positive attitude affects the body by freeing it of stress.
            Finally, spending time in prayer and Bible study affects physical well-being. You were created to be in relationship with God; it only makes sense, then, that actively engaging in this relationship and realigning your mind and spirit toward Him can have beneficial effects on the body He created for you.
            Many people attempt to separate spiritual life from the physical. This is not what God intended. If you truly believe your body is the temple of the Holy Spirit (1 Corinthians -20), then you must realize that failing to maintain your health is both a physical and a spiritual problem. What is the Lord saying to you about the way you care for your body?
 
FEATURED RESOURCE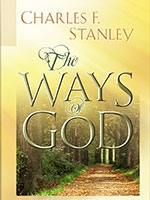 The Ways of God
from Dr. Charles Stanley
God's ways are always perfect, and following them leads to fulfillment and success. One of life's undeniable truths is that your choices will ultimately determine your future. While you can decide for yourself what career field to enter or who to marry, nothing compares with seeking God first and relying on the wonderful principles of His Word. In this series, Dr. Stanley teaches that as you serve God and seek His ways, you'll be blessed with peace, wisdom, and guidance for the journey ahead. Order here  now!
To see more resources from In Touch Ministries, please visit us at www.intouch.org  or go directly to our bookstore at In Touch Ministries.