In Touch Daily Devotional 
by Dr. Charles Stanley
---
October 29, 2006 Following Christ John 16:7
            What is your notion of following Christ? Doesn't it basically boil down to obeying Christ?
            The disciples enjoyed the company of Christ Himself for three years. They were able to converse with Him and receive an audible answer. They were able to see Him and touch Him. But we also have the benefit of His presence. The day before He was crucified, Christ promised the disciples that He would not leave them alone in this fallen world. He pledged to send them a Helper, the Holy Spirit, to guide them into all truth.
            The Holy Spirit indeed reveals to us the truth of Christ in any and all circumstances. He enables us to walk in the way that He reveals, and He also corrects our course when we stray.
            God's way is not the world's way. Satan controls this evil world system and attempts to camouflage circumstances to confuse people. But the Holy Spirit is our sure compass and always responds to our prayers and faith.
            If you are a believer attempting to walk closely with Christ, you can be sure that the Holy Spirit will place a "check" within your spirit when confronted with a situation or decision that would take you outside the will of God. What you do next will influence how well you continue to follow Christ. Because it all boils down to obedience.
 
FEATURED RESOURCE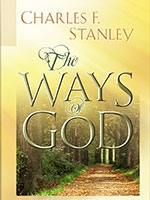 The Ways of God
from Dr. Charles Stanley
God's ways are always perfect, and following them leads to fulfillment and success. One of life's undeniable truths is that your choices will ultimately determine your future. While you can decide for yourself what career field to enter or who to marry, nothing compares with seeking God first and relying on the wonderful principles of His Word. In this series, Dr. Stanley teaches that as you serve God and seek His ways, you'll be blessed with peace, wisdom, and guidance for the journey ahead. Order here  now!
To see more resources from In Touch Ministries, please visit us at www.intouch.org  or go directly to our bookstore at In Touch Ministries.