In Touch Daily Devotional 
by Dr. Charles Stanley
---
October 03, 2006 The Purpose of Life John 17:1-3
Believers do a lot of wonderful things in the name of God. Sometimes, though, service becomes more important than the Master.  Hosea 6:6 makes the Lord's priorities clear: "For I delight in loyalty rather than sacrifice, and in the knowledge of God rather than burnt offerings." He wants our attention more than any gifts or works.
Unfortunately, too many Christians never press beyond an occasional good work or Bible reading. They ignore the Holy Spirit's nudges to spend time in prayer and Scripture meditation. It's either too much work or doesn't fit their lifestyle. Also, they tend to worship out of a sense of duty. Does this sound like your life? If so, you should know that becoming intimately acquainted with God does require time and commitment. But it is immensely rewarding.
Human beings are created to know God. He instilled in us a thirst that will not be satisfied until we reach out to Him for companionship and love. Paul wrote in Philippians 3:8 (NAS), "More than that, I count all things to be loss in view of the surpassing value of knowing Christ Jesus my Lord, for whom I have suffered the loss of all things, and count them but rubbish so that I may gain Christ."
We were created to have an intimate, loving relationship with the Lord… and to bring Him glory. Paying respect with our gifts and good works is a natural extension of that design. But our primary responsibility is to spend time with Him.
 
FEATURED RESOURCE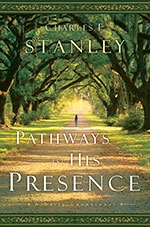 Pathways to His Presence
from Dr. Charles Stanley
Dr. Stanley's new daily devotional, Pathways to His Presence, focuses on 12 spiritual pathways each month — including forgiveness, prayer, victory, and peace — that will guide you confidently into the presence of God. As you journey along, you will join a long list of biblical heroes who chose to place their lives in the hands of God and obey His call. By doing so, they came to know the Lord more intimately and accomplish great and mighty things in His name. Spending time with the Father each day will not only provide guidance for your life, but will make you more like Him! Order here now!
FEATURED RESOURCE
How to Let God Solve Your Problems
from Dr. Charles Stanley
In How to Let God Solve Your Problems, you will discover not only how to handle adversity but how to live beyond your deepest hurts through faith and trust in the one Person who will never leave you. Order here now!
To see more resources from In Touch Ministries, please visit us at www.intouch.org  or go directly to our bookstore at In Touch Ministries.