In Touch Daily Devotional 
by Dr. Charles Stanley
---
October 30, 2006 The Cross' Impact on Death Genesis 3
            Death is a reality we all must face, and yet we do our best to ignore it. We naturally prefer to focus on living today, not dying. But God wants us to understand some important spiritual truths about death.
            Scripture says, "Therefore, just as through one man sin entered into the world, and death through sin, and so death spread to all men, because all sinned"(Romans 5:12)."One man" refers to Adam who, along with Eve, broke the only command God had given them: "But you must not eat from the tree of the knowledge of good and evil, for when you eat of it you will surely die" (Genesis 2:17 NIV). They were driven away because of their disobedience. Consequently, their intimacy with God was broken, and they faced physical death in their future. Because of sin, our mortal bodies will die also (Romans )—there is no escape unless Jesus returns while we're still alive.
            Spiritual death, which is the separation of a person from God, resulted from the first sin. As Adam's descendants, we are born into that state—"dead in [our] trespasses and sins" (Ephesians 2:1), and we remain spiritually dead unless we unite with God through faith in Christ. (1 Corinthians 15:22) By receiving the Savior, we are reconciled to our heavenly Father, and we are guaranteed eternal life with Him. (John 3:15)
            Followers of Christ need not fear death. While our bodies will die, we are promised everlasting life in heaven. The cross has transformed death: once an ending of life, it is now a doorway opening into Jesus' presence.
FEATURED RESOURCE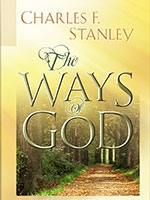 The Ways of God
from Dr. Charles Stanley
God's ways are always perfect, and following them leads to fulfillment and success. One of life's undeniable truths is that your choices will ultimately determine your future. While you can decide for yourself what career field to enter or who to marry, nothing compares with seeking God first and relying on the wonderful principles of His Word. In this series, Dr. Stanley teaches that as you serve God and seek His ways, you'll be blessed with peace, wisdom, and guidance for the journey ahead. Order here  now!
To see more resources from In Touch Ministries, please visit us at www.intouch.org  or go directly to our bookstore at In Touch Ministries.