Weekend: October 4-5, 2008 
God's Saving Pursuit
Revelation 3:20
Revelation 3:20 is a fantastic key passage that truly sets the Christian faith apart from the other religions of the world. Here, we have a beautiful picture of Jesus Christ, the Savior of mankind, patiently knocking on the door of our hearts. What a fabulous illustration of God's saving pursuit.
You see, in most other religions, the scene would be reversed. The picture would be of you or me knocking on the door of heaven, trying to get in. But here, we understand that Jesus is the one who pursues. When you look at the passage in its original Greek language, you notice that the Lord doesn't just walk up and knock once or twice. The verb form denotes continual action. He stands there knocking, and He just keeps on standing there and knocking.
We see this active pursuit all through the Scriptures. In the Garden of Eden, after Adam and Eve sinned, did they sorrowfully seek out the Lord and ask forgiveness? No, it was the Lord God who called out to them, actively seeking the first couple and giving them a chance to confess their sin (Gen. 3:8-9).
And think about the apostle Paul. Did he come to know the Savior by searching for Christ? No! Instead, Jesus sought out the then-persecutor of the church, meeting up with him on the Damascus Road and calling him into repentance (Acts 9:1-6).
The Savior has allowed us the honor of participating in His pursuit of man. Are you living out that calling? Jesus is at work all around you; join Him today in spreading the Good News everyone needs to hear.
FEATURED RESOURCE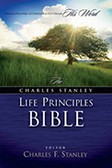 The Life Principles Bible
This Bible combines the wisdom of Scripture with the principles that guide Dr. Stanley's life and empower his ministry. Order your copy.
To see more resources from In Touch Ministries, please visit us at www.intouch.org or go directly to our bookstore at In Touch Ministries.