In Touch Daily Devotional 
by Dr. Charles Stanley
---
October 08, 2006 Controlling Your Thoughts Colossians 3:1-4
            A thought can be happy, pleasant, sad, or depressing. It also can be tempting, the kind of thought that will cause you to question its origin.
            As tempting thoughts bear down on us, we may find ourselves surrendering to them and falling into sin. Whether it is for just a moment or for months, tempting thoughts have a way of breaking down our resistance and causing us to rationalize away the action.
            Everyone is subject to these tempting thoughts, both Christians and non-Christians. However, as Christians we can prevent these thoughts from lingering in our minds by knowing our position in Christ.
            So, what is your position in Christ? If you are a Christian, Christ lives in you, and you are in Him. And if He is in you, then you should honor Him by doing what Paul urges in verse 2: "Set your mind on the things above, not on the things that are on the earth."
            If you continue to think like you did before you came to know the Lord, you will never reach the full potential God has for you in this life. Tempting thoughts will come your way. This is not a sin. But dwelling on these thoughts only breeds sin.
            Remember, every action you take begins with a thought in your mind. "For as he thinks within himself, so he is" (Proverbs 23:7).
 
FEATURED RESOURCE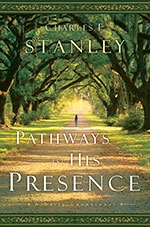 Pathways to His Presence
from Dr. Charles Stanley
Dr. Stanley's new daily devotional, Pathways to His Presence, focuses on 12 spiritual pathways each month — including forgiveness, prayer, victory, and peace — that will guide you confidently into the presence of God. As you journey along, you will join a long list of biblical heroes who chose to place their lives in the hands of God and obey His call. By doing so, they came to know the Lord more intimately and accomplish great and mighty things in His name. Spending time with the Father each day will not only provide guidance for your life, but will make you more like Him! Order here now!
FEATURED RESOURCE
How to Let God Solve Your Problems
from Dr. Charles Stanley
In How to Let God Solve Your Problems, you will discover not only how to handle adversity but how to live beyond your deepest hurts through faith and trust in the one Person who will never leave you. Order here now!
To see more resources from In Touch Ministries, please visit us at www.intouch.org  or go directly to our bookstore at In Touch Ministries.