In Touch Daily Devotional 
by Dr. Charles Stanley
---
October 09, 2006 The Greatness of God Isaiah 40:12-31
Ask a group of people what God is like, and you'll get many different answers. Some will say He's a force somewhere in the universe. Others picture a benevolent grandfather who overlooks our "little" sins. Most of the time, the actions and characteristics we assign to God suit us individually. But they don't add up to who He really is.
The real God might surprise you. As He reveals Himself in Scripture, God is a person—in every reference. He is named—Yahweh, Elohim, Lord—or spoken of using masculine pronouns, such as He and Him. God fits all of the attributes of a person. He shows intelligence to reason, emotions to feel, and the will to make decisions. From Genesis to Revelation, God displays these features.
Scripture also shows God's unchanging character. He is always Spirit, and His love remains constant. Believers can expect God's principles and laws to hold true and for Him to act exactly as He has promised. God does adjust His emotions to fit a situation. But feelings, such as joy and anger, are consistent with His character.
God is eternal. He has no beginning or end. He is the same yesterday, today, and forever. No one created Him. God simply is. That's hard for people to understand. But if the Lord were completely explainable, He would be like us and unworthy of worship. If we're to honor our Heavenly Father, we should know Him as He really is—an eternal, unchanging person.
 
FEATURED RESOURCE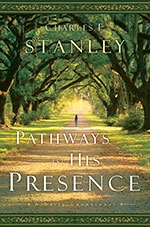 Pathways to His Presence
from Dr. Charles Stanley
Dr. Stanley's new daily devotional, Pathways to His Presence, focuses on 12 spiritual pathways each month — including forgiveness, prayer, victory, and peace — that will guide you confidently into the presence of God. As you journey along, you will join a long list of biblical heroes who chose to place their lives in the hands of God and obey His call. By doing so, they came to know the Lord more intimately and accomplish great and mighty things in His name. Spending time with the Father each day will not only provide guidance for your life, but will make you more like Him! Order here now!
FEATURED RESOURCE
How to Let God Solve Your Problems
from Dr. Charles Stanley
In How to Let God Solve Your Problems, you will discover not only how to handle adversity but how to live beyond your deepest hurts through faith and trust in the one Person who will never leave you. Order here now!
To see more resources from In Touch Ministries, please visit us at www.intouch.org  or go directly to our bookstore at In Touch Ministries.