October 13
Overcoming Self-Sufficiency
In many modern cultures, self-sufficiency is prized. People cheer over stories of the man who "pulled himself up by his boot straps." A lot of folks don't like to admit the need for help from other people or from the Lord, since a can-do attitude seems far more impressive. In a word, the problem is pride.
Adversity punches holes in pride. Paul reported that he had a lot of reasons to be arrogant—a good pedigree, education, religious fervor, etc. (Phil. 3:5-6). Even after his conversion, he had plenty of opportunity get a swelled head. God had specifically called him to carry the gospel to the Gentiles. But the Lord also gave him a "thorn in the flesh"—an obstacle so great that Paul required constant spiritual assistance to work through it. This was the pin that burst the apostle's pride balloon and then kept it so full of holes that it couldn't re-inflate.
God uses adversity in much the same way in our lives. We find ourselves in a situation that is beyond our capacity to handle. So we try to pull those bootstraps, but nothing happens. That is when God offers His sufficiency, His might, and His guidance. Those who submit to Him discover renewed strength, as His power dwells within them.
Self-sufficiency is no prize; it is a trap. That's why God's message is the opposite of the one that the world trumpets so loudly. Those who desire to conquer adversity must sacrifice self-reliance to depend upon Him. When we are weak, His Spirit makes us strong.
For more biblical teaching and resources from Dr. Charles Stanley, please visit www.intouch.org.
Click here to watch Dr. Charles Stanley & In Touch Ministries Video Online
and
click here to listen to Dr. Stanley at OnePlace.com.
FEATURED RESOURCE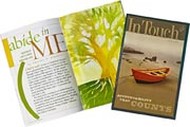 In Touch Magazine
Stories that Inspire, Teaching that Renews
If you like Dr. Charles Stanley's radio program, TV broadcast and books, then you'll love his free, award-winning monthly magazine. It's full of informative resources that will touch your heart and invigorate your faith. Every month, In Touch magazine brings readers daily devotionals from Dr. Stanley, in-depth Bible studies, inspiring articles and insightful teaching to help strengthen your family and your relationship with God. Click below to start your free subscription to In Touch magazine. 

Used with permission from In Touch Ministries, Inc. © 2009 All Rights Reserved.