In Touch Daily Devotional
by Dr. Charles Stanley
---
September 13, 2007 – Receiving the Desire of Our Heart – Psalms 37
            The Lord is to be the greatest passion of a believer's life. A person who claims to love God should give a relationship with Him priority over possessions, vocation, and even other relationships. Yet some people miss the true message of Psalm 37:4 because they focus only on the part that says they can get what they want. The qualifying statement attached to that promise is a call for devotion to God: "Delight yourself in the Lord; and He will give you the desires of your heart" (emphasis added).
            Believers can and should savor pleasures. The heavenly Father wants His children to use the resources He gives as a way to enjoy life (1 Timothy 6:17). For instance, God has made it possible for me to travel and photograph some beautiful places. But the key to enjoying life is to delight in Him above all else. God's rightful place is as Lord of our life; to give anything else that position puts us at risk.
            The human heart is naturally selfish and often destructive. Without God as top priority, we will likely be governed by the pursuit of earthly goods. But when He is our first love, those warped cravings are replaced by desires that fit His will and purpose for us.
            King David, a man who faced great tragedy and heartache, understood from experience that a heart devoted to the Lord also knows delight and blessing. Psalm 37 was his encouragement for us to seek God as diligently as he had done. Take David's words to heart, and let the Lord be your obsession. You will be amazed at how He will bless you.
FEATURED RESOURCE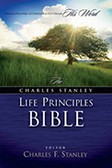 The Life Principles Bible
This Bible combines the wisdom of Scripture with the principles that guide Dr. Stanley's life and empower his ministry. Order your copy.
To see more resources from In Touch Ministries, please visit us at www.intouch.org or go directly to our bookstore at In Touch Ministries.