In Touch Daily Devotional 
by Dr. Charles Stanley
---
September 16, 2006
Who Do You Say I Am?
The question hung in the air like a thick morning fog. There was complete silence. The small crowd around Jesus looked stunned — too scared or uncertain to speak. They didn't know what to say in response to the Lord's question, "Who do you say that I am?" (Matthew 16:15).  Then, as though some invisible hand had flipped a switch, bringing him into perfect awareness, Simon Peter's head shot up.  He looked Jesus in the eye and declared, "You are the Christ, the Son of the living God" (v.  16). Peter got it right.
Calling Jesus "Christ" and "God's Son" was a big deal in biblical times. Such a statement led to the death of many brave believers. The Jewish and Roman authorities persecuted Christians who were willing to take a stand for their faith. Even those who walked side-by-side with Jesus — and eagerly took part in His ministry — sometimes hesitated to call Him "Christ." It was a huge risk.
So, they sometimes remained silent while continuing to work for the kingdom. Isn't it interesting that today's Church often has the opposite problem? Many people are quick to exclaim "Jesus is Lord!" But, they fail to go about His work and ministry. 
Is there a difference between what you profess with your mouth and what you do for the kingdom? Jesus calls us to be complete in testimony and in deed. If you confess "Jesus is Lord," then your life should reflect your bold stance. What can you do today to share your faith with others?
FEATURED RESOURCE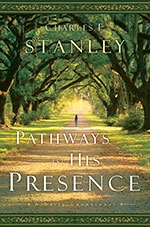 Pathways to His Presence
from Dr. Charles Stanley
Dr. Stanley's new daily devotional, Pathways to His Presence, focuses on 12 spiritual pathways each month — including forgiveness, prayer, victory, and peace — that will guide you confidently into the presence of God. As you journey along, you will join a long list of biblical heroes who chose to place their lives in the hands of God and obey His call. By doing so, they came to know the Lord more intimately and accomplish great and mighty things in His name. Spending time with the Father each day will not only provide guidance for your life, but will make you more like Him! Order here now!
FEATURED RESOURCE
How to Let God Solve Your Problems
from Dr. Charles Stanley
In How to Let God Solve Your Problems, you will discover not only how to handle adversity but how to live beyond your deepest hurts through faith and trust in the one Person who will never leave you. Order here now!
To see more resources from In Touch Ministries, please visit us at www.intouch.org  or go directly to our bookstore at In Touch Ministries.