In Touch - Sept. 17, 2006
In Touch Daily Devotional 
by Dr. Charles Stanley
---
September 17, 2006
Gift of Forgiveness
When we yield to temptation, one of the first things we wonder is if God will continue to love us. Knowing that He is still extending His forgiveness to us brings comfort and reassurance. Forgiveness is the cornerstone to the message of salvation. God loves us so much that He sent His Son to die for us so that we might have eternal forgiveness (John 3:16).
    
Through His life and death, Jesus did for us what we could not do for ourselves: He forgave all our sin–past, present, and future. Once the cleansing blood of Christ is applied to our lives, then sin's stain is removed. The same is true for all who continue to come to the Lord.
    
God's forgiveness requires two elements: sin that needs forgiving and Someone who will forgive the offender. Jesus is your advocate before the Father (1 John 2:1).
    
When the enemy accuses you of wrong doing, Jesus steps forward and proclaims His faithful, eternal love for you.
    
There is nothing you can do that is beyond His ability to forgive. He knows all about you life – all your failures and heartaches – and still he chooses to love you. Once His forgiveness is installed, He restores your life and brings hope to every area.
    
There is no power on earth or in heaven stronger than His love for you. In this you can rejoice!
 
FEATURED RESOURCE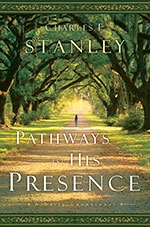 Pathways to His Presence
from Dr. Charles Stanley
Dr. Stanley's new daily devotional, Pathways to His Presence, focuses on 12 spiritual pathways each month — including forgiveness, prayer, victory, and peace — that will guide you confidently into the presence of God. As you journey along, you will join a long list of biblical heroes who chose to place their lives in the hands of God and obey His call. By doing so, they came to know the Lord more intimately and accomplish great and mighty things in His name. Spending time with the Father each day will not only provide guidance for your life, but will make you more like Him! Order here now!
FEATURED RESOURCE
How to Let God Solve Your Problems
from Dr. Charles Stanley
In How to Let God Solve Your Problems, you will discover not only how to handle adversity but how to live beyond your deepest hurts through faith and trust in the one Person who will never leave you. Order here now!
To see more resources from In Touch Ministries, please visit us at www.intouch.org  or go directly to our bookstore at In Touch Ministries.