In Touch - Sept. 18, 2006
In Touch Daily Devotional 
by Dr. Charles Stanley
---
September 18, 2006
The Need for a Sacrifice
Have you ever read about animal sacrifice in the Old Testament and wondered what it was for? Hebrews 10:1-4 describes God's purpose for the sacrificial system. He gave His law as a foreshadowing of a future life of glory. In essence, He was saying, "If you live the way I'm telling you to live, then you will have a rich, abundant life of blessing." However, the law itself was not the way to this full life; it was only a shadow.
In that system, people had to offer animal sacrifices to God regularly in atonement for their sins. The Bible clearly attests that the only payment for sin is death (Romans 6:23). However, in His grace, God allowed people to offer animal sacrifices as a substitute — He accepted the blood of animals as a payment for the massive sin-debt.However, it was only a temporary solution and therefore had to be repeated annually.
In order for mankind to be eternally freed from the guilt of sin, a completely pure sacrifice was required. What's more, the acceptable once-for-all sacrifice could not be an animal; after all, the guilt belonged to man. Therefore, a perfect and sinless man was needed, and yet, this was impossible. What were we to do?
Only man should have paid the price, but only God could have done so. As a result, the one possible solution was Jesus Christ, wholly God and wholly man. Unlike the blood of bulls, the blood of Christ was indeed sufficient.
It is by the blood of Christ alone that we are saved. Have you thanked Him lately for the sacrifice that He made on your behalf?
 
FEATURED RESOURCE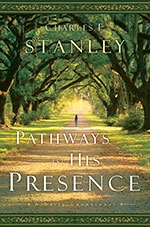 Pathways to His Presence
from Dr. Charles Stanley
Dr. Stanley's new daily devotional, Pathways to His Presence, focuses on 12 spiritual pathways each month — including forgiveness, prayer, victory, and peace — that will guide you confidently into the presence of God. As you journey along, you will join a long list of biblical heroes who chose to place their lives in the hands of God and obey His call. By doing so, they came to know the Lord more intimately and accomplish great and mighty things in His name. Spending time with the Father each day will not only provide guidance for your life, but will make you more like Him! Order here now!
FEATURED RESOURCE
How to Let God Solve Your Problems
from Dr. Charles Stanley
In How to Let God Solve Your Problems, you will discover not only how to handle adversity but how to live beyond your deepest hurts through faith and trust in the one Person who will never leave you. Order here now!
To see more resources from In Touch Ministries, please visit us at www.intouch.org  or go directly to our bookstore at In Touch Ministries.