In Touch Daily Devotional 
by Dr. Charles Stanley
---
September 22, 2006
God's Sovereignty
Do you believe that the Lord has absolute control over our universe — including all the people in it? The best way to know what is truth is to see what God has inspired men to say about Him in Scripture (2 Timothy 3:16). God declares He is sovereign over:
Nature. The psalmist wrote, "Whatever the LORD pleases, He does, in heaven and in earth, in the seas and in all deeps" (Psalm 135:6). God causes the rain to fall, the grass to grow, and vegetation to bring forth food. There isn't a single aspect of nature over which the Lord lacks control.
Nations. "He makes the nations great, then destroys them; He enlarges the nations, then leads them away (Job )." God's rule is certain and sure. He keeps watch over the nations (Psalm 66:7), knows what's happening, and maintains His authority over both good and evil governments (Romans 13:1).
Natural man. God has control over unbelievers as well as believers. "He himself gives all men life and breath and everything else" (Acts NIV). He forms us in our mother's womb, knows the number of hairs on our head, and determines the appointed times and places of our lives (Psalm 139:13; Luke 12:7; Acts 17:26). Spiritual life as well as physical life is under His complete control (John 6:44).
When we believe God is sovereign and experience this truth in our lives, we will be filled to overflowing with peace and joy. We will rest secure in the knowledge that, no matter what is happening in our world, our God reigns. His will shall be accomplished. Does your life show trust in God's sovereignty?
 
FEATURED RESOURCE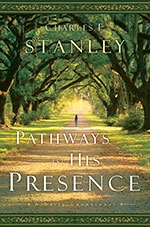 Pathways to His Presence
from Dr. Charles Stanley
Dr. Stanley's new daily devotional, Pathways to His Presence, focuses on 12 spiritual pathways each month — including forgiveness, prayer, victory, and peace — that will guide you confidently into the presence of God. As you journey along, you will join a long list of biblical heroes who chose to place their lives in the hands of God and obey His call. By doing so, they came to know the Lord more intimately and accomplish great and mighty things in His name. Spending time with the Father each day will not only provide guidance for your life, but will make you more like Him! Order here now!
FEATURED RESOURCE
How to Let God Solve Your Problems
from Dr. Charles Stanley
In How to Let God Solve Your Problems, you will discover not only how to handle adversity but how to live beyond your deepest hurts through faith and trust in the one Person who will never leave you. Order here now!
To see more resources from In Touch Ministries, please visit us at www.intouch.org  or go directly to our bookstore at In Touch Ministries.