In Touch - Sept. 23, 2006
In Touch Daily Devotional 
by Dr. Charles Stanley
---
September 23, 2006
God's Sovereignty Brings Us Assurance
Romans 8:28
Since eternity past and throughout the entire history of man, almighty God has ruled with supreme authority. Nothing is hidden from His knowledge or beyond the scope of His control. Because of His sovereignty, we who by faith in Christ are part of His family can live with the assurance that:
God works for our good. Scripture declares that God has the power to work every circumstance in our life into something that is beneficial in His eyes. He has the knowledge and power to accomplish it, as well as the desire. God promises to do this for those who love and belong to Him. Our part is to believe.
God protects us every day. His Word declares that "the angel of the LORD encamps around those who fear Him" (Psalm 34:7). Nothing can touch God's children apart from His permissive will. When God allows painful things to happen, we must trust in His unchanging nature and enduring promises. Circumstances and people change, but His good and loving character does not.
God has control over our future. He has a plan fully worked out for the body of Christ and each of its members — a plan so good that it is beyond imagining (1 Corinthians 2:9). We can entrust our future to God because His character and plans are perfect.
Resting in the Lord's sovereignty will free us from fear and anxiety. If you lack assurance about any of these points, confess your unbelief to the heavenly Father. Ask His forgiveness, commit to meditating on His character and promises, and experience the strengthening of your faith.
 
FEATURED RESOURCE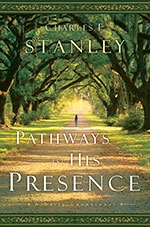 Pathways to His Presence
from Dr. Charles Stanley
Dr. Stanley's new daily devotional, Pathways to His Presence, focuses on 12 spiritual pathways each month — including forgiveness, prayer, victory, and peace — that will guide you confidently into the presence of God. As you journey along, you will join a long list of biblical heroes who chose to place their lives in the hands of God and obey His call. By doing so, they came to know the Lord more intimately and accomplish great and mighty things in His name. Spending time with the Father each day will not only provide guidance for your life, but will make you more like Him! Order here now!
FEATURED RESOURCE
How to Let God Solve Your Problems
from Dr. Charles Stanley
In How to Let God Solve Your Problems, you will discover not only how to handle adversity but how to live beyond your deepest hurts through faith and trust in the one Person who will never leave you. Order here now!
To see more resources from In Touch Ministries, please visit us at www.intouch.org  or go directly to our bookstore at In Touch Ministries.