In Touch - Sept. 25, 2006
In Touch Daily Devotional 
by Dr. Charles Stanley
---
September 25, 2006
God's Sovereignty and the Existence of Evil
Throughout the Bible, we see evidence of God's authority over both humanity and nature. However, we have trouble reconciling God's sovereign control with the existence of evil. What does Scripture tell us?
In the beginning, God created a perfect world, in which He declared that all He had made was good (Genesis 1:31). Wickedness was not part of what He had fashioned. In the heavens, however, an angel known as Satan sought to elevate himself above God and was cast down to earth (Isaiah 14:12).
God created Adam and Eve in His image. They were made with the capacity to love their Creator and the ability to choose to obey or disobey Him. God had no desire for Adam and Eve to sin (James ), but He allowed their wills to be tested. We know the rest of the story. When they disobeyed God, sin entered our world and corrupted mankind. As Adam and Eve's descendants, we inherited the "flesh" nature (Romans 5:12).
The Lord's permissive will allowed events to unfold as they have. God did not create evil, but He has permitted it to exist and uses it to accomplish His good purposes (Isaiah 45:6-7).
When you have questions or doubts about God's sovereignty, start with what you do understand, study what God has revealed about Himself and His ways, and ask the Holy Spirit to help you believe. A few answers to your questions will come quickly, while some will require diligent study and spiritual maturity. For others, which God has chosen to keep hidden (Deuteronomy 29:29), we are to walk by faith.
 
FEATURED RESOURCE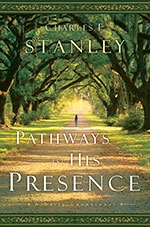 Pathways to His Presence
from Dr. Charles Stanley
Dr. Stanley's new daily devotional, Pathways to His Presence, focuses on 12 spiritual pathways each month — including forgiveness, prayer, victory, and peace — that will guide you confidently into the presence of God. As you journey along, you will join a long list of biblical heroes who chose to place their lives in the hands of God and obey His call. By doing so, they came to know the Lord more intimately and accomplish great and mighty things in His name. Spending time with the Father each day will not only provide guidance for your life, but will make you more like Him! Order here now!
FEATURED RESOURCE
How to Let God Solve Your Problems
from Dr. Charles Stanley
In How to Let God Solve Your Problems, you will discover not only how to handle adversity but how to live beyond your deepest hurts through faith and trust in the one Person who will never leave you. Order here now!
To see more resources from In Touch Ministries, please visit us at www.intouch.org  or go directly to our bookstore at In Touch Ministries.