In Touch - Sept. 26, 2008
Friday September 26
Protecting Our Future
Genesis 25:19-34
We live in a pleasure-oriented culture that focuses on the present. God does not want us to sacrifice future blessings for short-term enjoyments. Let's look at Esau's mistakes and learn from him.
Blind to what was valuable in life, Esau casually sold his birthright to get what he wanted. As the eldest son of Isaac, he faced a secure future as upcoming head of the family and also its spiritual leader. He did not value his person rights as firstborn, nor did he care about the impact on future generations, so he sold it all for a bowl of stew. Some of us are similarly shortsighted. We spend long hours working or engaging in pleasurable activities of our own choosing. However, God wants our priorities to reflect His—namely, to love Him with all our heart and to love others through a life of service and sacrifice (Matt. 22:37-40).
Esau was ruled by his appetite and emotions. When he returned from hunting, his thoughts centered on his hunger and the quickest way to satisfy an empty stomach. He agreed to Jacob's offer without weighing the cost. Giving in to our feelings can be the first step toward trouble and regret. Emotions that prompt us to act quickly or put ourselves first can lead us astray. In addition, overindulgence can bring poor health, financial pressures, and even addiction.
We can protect our future by yielding to the Spirit's control and living out what Scripture considers most valuable: knowing God and obediently serving Him. Make sure that you put Him in charge of your mind, will, emotions, and appetite.
FEATURED RESOURCE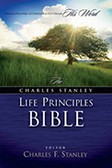 The Life Principles Bible
This Bible combines the wisdom of Scripture with the principles that guide Dr. Stanley's life and empower his ministry. Order your copy.
To see more resources from In Touch Ministries, please visit us at www.intouch.org or go directly to our bookstore at In Touch Ministries.