In Touch - Sept. 28, 2006
In Touch Daily Devotional 
by Dr. Charles Stanley
---
September 28, 2006
The Impact of Prayer
God has complete authority over all people and events. He knows the hearts of men, how they will act, and what steps to take to accomplish His purposes. At the same time, He calls us to pray.
Colossians 4:2 says we are to be devoted to prayer. In fact, communication with God is so vital that we are told to pray without ceasing. (1 Thessalonians 5:17) Continuous listening, talking, and relating to our heavenly Father should characterize our lives. The Scriptures explain why this is so important:
Prayer changes us. As we seek God's face and spend time in His Word, we will be transformed. Our desires will be replaced by His, and our thinking will align more closely with His thoughts. As our understanding of His character grows, we will have a better idea of how to pray in accordance with His will.

God answers prayer. (James 5:16) God has promised to listen and respond to the prayers of His children. (Isaiah 65:24) He assures us that He will act when our petitions are in Jesus' name — that is, matching His will and His timing. (John 14:13)
Prayer invites God to act. Prayer doesn't alter any of God's divine purposes or plans; nor does it cause Him to change His mind. What He has decided will occur, and His decisions will be exactly the right ones to accomplish His will. Our prayers are powerful when, without reservation, we invite God to do His work in our lives and the lives of others.
What impact does prayer have? It allows an inadequate people to connect with an all-sufficient God. Hallelujah!
 
FEATURED RESOURCE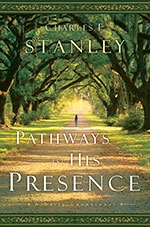 Pathways to His Presence
from Dr. Charles Stanley
Dr. Stanley's new daily devotional, Pathways to His Presence, focuses on 12 spiritual pathways each month — including forgiveness, prayer, victory, and peace — that will guide you confidently into the presence of God. As you journey along, you will join a long list of biblical heroes who chose to place their lives in the hands of God and obey His call. By doing so, they came to know the Lord more intimately and accomplish great and mighty things in His name. Spending time with the Father each day will not only provide guidance for your life, but will make you more like Him! Order here now!
FEATURED RESOURCE
How to Let God Solve Your Problems
from Dr. Charles Stanley
In How to Let God Solve Your Problems, you will discover not only how to handle adversity but how to live beyond your deepest hurts through faith and trust in the one Person who will never leave you. Order here now!
To see more resources from In Touch Ministries, please visit us at www.intouch.org  or go directly to our bookstore at In Touch Ministries.