"Know What You Believe" - In Touch - Nov. 6, 2009
November 6 
Know What You Believe 
2 Timothy 1:12-14
All people have a belief system, whether they realize it or not. Even those who claim there is no God have faith that He does not exist. What we believe affects every area of our lives and shapes every decision we make, yet few of us take the time to really think about what we accept as true.
All belief systems have a foundation. Some people base their convictions on what fits their lifestyle, reasoning, and desires. However, Jesus calls His followers to adapt life to their faith in Him and the authority of His Word.
Anytime we add other philosophies or ideas to Scripture or pick and choose which parts of the Bible to believe, we create our own version of faith based on personal reasoning. God's Word is the only true and reliable foundation for belief, because it contains the recorded thoughts of an eternal, all-knowing God. All other concepts must be measured against it
to determine their validity.
Knowing what the Bible says is essential for developing a sound system of beliefs founded on the truth and wisdom of God. This world will offer you a variety of philosophies which sound good but are laced with lies. A faith anchored in the Scriptures is your protection against deception.
Each time you face a problem or decision, search for the answer in Scripture. Begin your day by reading the Word and asking God to help you understand what He is saying. He loves communicating with you, and as you spend time with Him, He'll open your mind to know His thoughts.
For more biblical teaching and resources from Dr. Charles Stanley, please visit www.intouch.org.
Click here to watch Dr. Charles Stanley & In Touch Ministries Video Online
and
click here to listen to Dr. Stanley at OnePlace.com.
FEATURED RESOURCE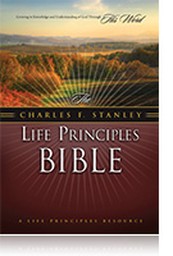 The NASB Life Principles Bible
You can now read the Scriptures in Dr. Stanley's favorite teaching translation -- the New American Standard -- while learning the 30 Life Principles that have guided him for more than 50 years. The new NASB Life Principles Bible will enhance your personal study time through explanation of key passages, plus helpful resources like "Answers to Life's Questions," concordance, maps, and much more. Available in leather and hardcover. 

Used with permission from In Touch Ministries, Inc. © 2009 All Rights Reserved.