"Speaking Through Finances" - In Touch - Sept. 19-20, 2009

Sept. 19/20, 2009
Speaking Through Finances
One of the greatest challengers to God's rule in our lives is money. When we experience a great season of financial blessing, it becomes easy to feel self-sufficient, thinking we do not need the Lord for our success. In those times, God may have to get our attention in a most painful way.
We see this in today's passage. The people had become unruly and turned away from God. Therefore, He got their attention by touching them where He knew they'd feel it: in their pocketbooks. Specifically, He allowed hostile nations to completely ruin Israel's livelihood—their crops—for seven years. This aggression all but destroyed their way of life.
What was the result? Judges 6:6 reveals, "The sons of Israel cried to the Lord." That is, they turned back to Him and did whatever was necessary for their relationship with God to be restored. And what instigated this repentance? It was the Lord's direct manipulation and interruption of their finances.
Over the years, I've talked with many people who have gone through a similar experience. God granted them great success, but then they turned away from Him. So He removed the obstacle: their money. And more often than not, the result was a renewed passion for knowing God.
Remember, our Lord is a jealous God (Ex. 20:5-7). He will not allow even His own blessings to draw you away from Him. Prayerfully consider your priorities today. Ask God to reign supreme over your finances, and request the wisdom to manage your money under His direction.
For more biblical teaching and resources from Dr. Charles Stanley, please visit www.intouch.org
and
click here to listen to Dr. Stanley at OnePlace.com.
FEATURED RESOURCE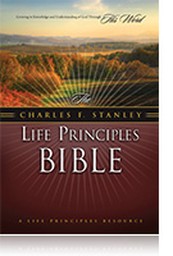 The NASB Life Principles Bible
You can now read the Scriptures in Dr. Stanley's favorite teaching translation -- the New American Standard -- while learning the 30 Life Principles that have guided him for more than 50 years. The new NASB Life Principles Bible will enhance your personal study time through explanation of key passages, plus helpful resources like "Answers to Life's Questions," concordance, maps, and much more. Available in leather and hardcover. 

Used with permission from In Touch Ministries, Inc. © 2009 All Rights Reserved.