Tax Cheats
By:Rick Boxx
April 15, 2016
According to a 2014 IRS study, 86% of taxpayers believe that cheating on taxes is morally wrong. Yet, according to a yahoo.com article, one government study discovered that the most likely tax cheaters are many of our business leaders.
According to this study, the professions most likely to cheat include: self-employed restaurateurs, clothing store owners, car dealers, salespeople, doctors, lawyers, and accountants. Many look to these leaders for guidance.
Romans 13 teaches, "This is also why you pay taxes, for the authorities are God's servants, who give their full time to governing. Give to everyone what you owe them: If you owe taxes, pay taxes."
Although our governing authorities are currently held in low-esteem by many, as business leaders we should abide by God's command and pay all the taxes that we owe.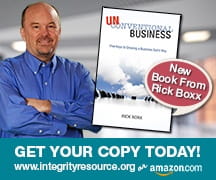 Learn more about Rick Boxx and Integrity Resource Center