The Evangelical Decline
By: Rick Boxx
April 16, 2013
Many people believe that 40-80% of Americans are Christian, but a new book called "The Great Evangelical Recession" reveals different data.
Four different companies performed studies to determine the number of evangelical Christians in the United States; meaning they take the Bible seriously and believe Jesus is Lord and Savior. Four different approaches were used, but all discovered that only 7-9% of our population is truly evangelical.
The wide disparity from traditional thought is due in part to beliefs that have been polluted by the world.
James 1:27 teaches, "Religion that God our Father accepts as pure and faultless is this: to look after orphans and widows in their distress and to keep oneself from being polluted by the world."
These facts greatly expand our workplace opportunities for evangelism.
John Dickerson's The Great Evangelical Recession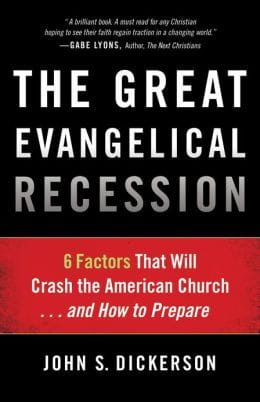 Nationally-awarded journalist John S. Dickerson assembles and interprets studies from dozens of leading researchers-both secular and Christian. After demonstrating the undeniable decline of Christianity in the U.S., Dickerson builds a Biblical case for course correction. Click here for more information.
"How well are you modeling Faith, Integrity, Relationships, and Excellence in your work? Find out by taking Integrity Resource Center's free FIRE Assessment!"
Contact Rick Boxx at www.integritymoments.org, and to learn more about Integrity Resource Center go to integrityresource.org.