A Personal Flaw
By:Rick Boxx
April 25, 2016
One of my personal flaws is being overly optimistic. One instance where this can be a problem is when I'm tackling a new project for which I have little experience.
When time commitments need to be made to others, I sometimes allow my optimism to establish unrealistic expectations. This can leave others with false hopes.
Although my intentions are good, a delayed project still undermines the integrity of our organization. Involving other team members helps, but this will likely be an ongoing challenge for me to confront.
God commanded in Numbers 30:2, "When a man makes a vow to the Lord or takes an oath to obligate himself by a pledge, he must not break his word but must do everything he said."
Let's pray that you and I learn to under-promise and over-perform.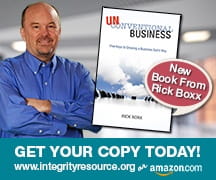 Learn more about Rick Boxx and Integrity Resource Center