Throw Away Your Notes
By:Rick Boxx
April 7, 2016
At 24 years old, Liz Wiseman was surprisingly asked to develop Oracle University from scratch. Through that experience, Liz discovered four principles that can help people overcome what she calls the "Knowledge Trap."
Liz Wiseman's third principle is to "Throw away your notes."
After 14 years of banking I found it difficult to embrace new ideas. As an industry veteran, it's easy to assume there's only one way to complete a project, even when something better comes along.
God has seasons when the old needs to be discarded. In Isaiah 65:17 we read, "See, I will create new heavens and a new earth. The former things will not be remembered, nor will they come to mind."
When starting a new project "throw away your notes" long enough to discover any new and improved possibilities.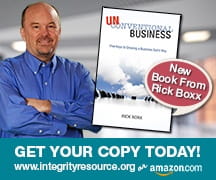 Learn more about Rick Boxx and Integrity Resource Center