One Seed, Incredible Fruit
By: Rick Boxx
December 18, 2012
Many years ago a young man named Brian attended one of our very first events. After that meeting I struck up a friendship and led him through an "Experiencing God" Bible study.
Then, Brian introduced me to his father, Jim. Since that time I've trained Jim's staff on applying biblical principles to their work, and their company has sponsored many business leaders to attend our events to learn God's principles as well.
Jesus taught in Mark 4, "Still other seed fell on good soil. It came up, grew and produced a crop, multiplying thirty, sixty, or even a hundred times."
God used Brian to help many others learn God's principles as well. As you plant seeds in your workplace don't be surprised by what multiplication God might do!
To help multiply God's work in the workplace, support Integrity Resource Center.
Joel Manby's Love Works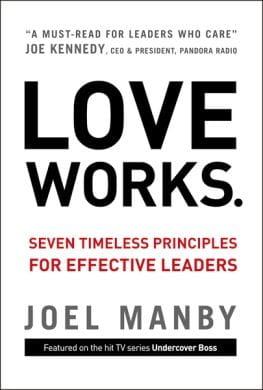 Manby challenges leaders to allow integrity and faith to guide leadership decisions, outlining seven time-proven principles that break down the natural walls within corporate cultures, and cultivating an atmosphere that builds long-term success. Purchase here.
"How well are you modeling Faith, Integrity, Relationships, and Excellence in your work? Find out by taking Integrity Resource Center's free FIRE Assessment!"
Contact Rick Boxx at www.integritymoments.org, and to learn more about Integrity Resource Center go to integrityresource.org.