Unleashing Prayer
By: Rick Boxx
December 4, 2012
A highlight of this past year was a Tuesday night prayer meeting at the Brooklyn Tabernacle in New York. God's presence was thick!
Only God can use a Caucasian pastor, in a primarily African American congregation to convince 3,000 people of all races to show up and pray each Tuesday night.
What impacted me most was when Pastor Cymbala requested everyone to pray fervently for a board member in their church. This member had just learned that cancer had overtaken his body.
About 3,000 people held hands and prayed fervently for this man. The power that flowed through those prayers touched me deeply.
James 5 teaches, "The effective prayer of a righteous man can accomplish much."
If you're facing a crisis at work, unleash the prayers of the saints.
Are you maximizing the use of your God given talents at work? Join us December 6th for our "Maximizing Your Calling" webinar to experience the joy of unleashing your potential.
Mike Frank's Prosperity with Purpose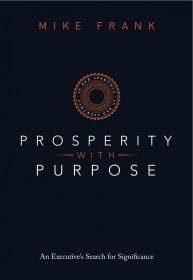 "If you are an executive that thrives on business but are thirsting for more, this book may be your story as well. I can't give you the formula for success, but I can show you how to live a life of relentless purpose…which may or may not include profound wealth". Click here to learn more.
"How well are you modeling Faith, Integrity, Relationships, and Excellence in your work? Find out by taking Integrity Resource Center's free FIRE Assessment!"
Contact Rick Boxx at www.integritymoments.org, and to learn more about Integrity Resource Center go to integrityresource.org.